Travel Destinations in Nueva Ecija
Nueva Ecija – you won't describe it as a premier travel destination up north. But, once you get to know the province – in all its eco-tourism glory – you'd never want to leave. It has this certain charm that entices you to explore the uncharted areas some more. Did you know that it is also known for its nickname 'Rice Bowl of the Philippines' due to the number of rice fields in the province? There is more to Nueva Ecija than just palayan, though.
A plethora of travel destinations abounds Nueva Ecija. In fact, these attractions can be even categorized into historical, cultural, natural, man-made, religious, and special interest. Not to mention, the categories don't even include the festivals yet. Here's a rundown of these destinations.
Top travel destinations in Nueva Ecija
Historical
Nueva Ecija is also known as the cradle of Filipino heroes.
Historic Barrio Labi in Bongabon
A resthouse to the Quezon family, it is found along the highway going to Baler, Aurora. Aurora A. Quezon, the wife of President Manuel L. Quezon, spend the last of her days in this house.
Tabacalera in San Isidro
Tabacalera is the Spain's tobacco monopoly. The Novo Ecijanos experienced a 100-year oppression and thus, can only raise tobacco. No other crops were allowed to be cultivated from 1782 to 1882. The Tabacalera ruins made from brick walls is considered the symbol of such oppression.
Grand Sedeco House in San Isidro
An old Spanish house, Grand Sedeco is regarded as a historical treasure by the locals. The house includes a display of memorabilia depicting the life of San Isidro. General Emilio Aguinaldo was a frequent visitor so General Frederick Funston planned the former's capture while staying in here.
Dalton Pass
Named after James Dalton II, a US Army Brigadier General, more than 17,000 Filipino, Americans, and Japanese soldiers and civilians died in this pass during the Second World War. Dalton Pass borders Nueva Ecija and Nueva Vizcaya.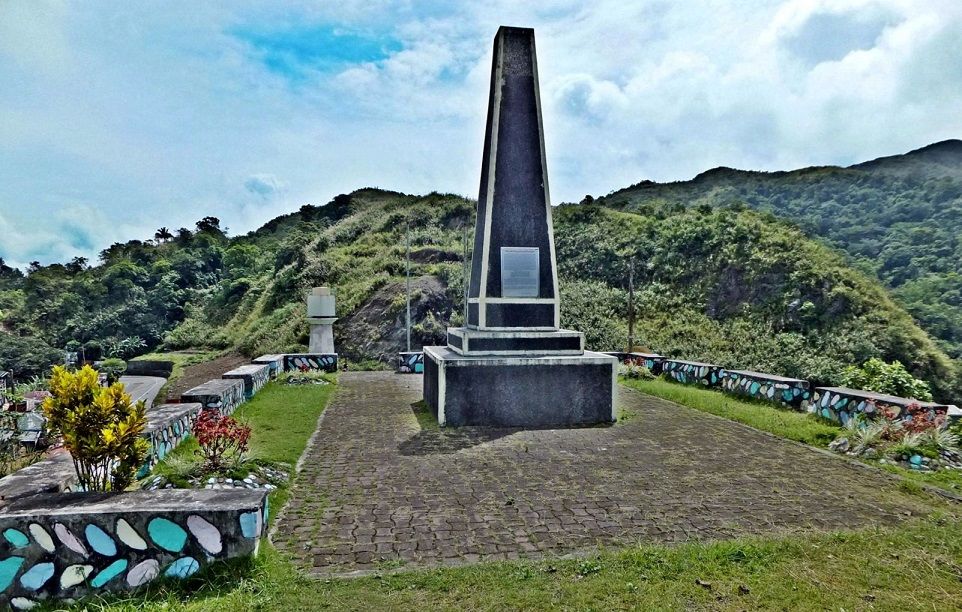 Cultural
Nueva Ecija is endowed with rich cultural heritage. In fact, each town has its own colorful festival.
Taong Putik Festival in Aliaga
Before dawn, the devotees cover their body with mud. They also wear make-do dresses made from dried banana leaves. They roam the town to ask for alms and candles as a way to relive St. John the Baptist's life. The festival ends with a mass where the devotees will light the candles they collected.
Natural
Nueva Ecija is mostly visited by the travelers because of its falls and this park.
Minalungao National Park in General Tinio
Perhaps the most popular destination in the province, the park features two, 16-meter high linear limestone rock formation that acts as the walls. In the middle, a narrow yet deep Peñaranda River, running along the Sierra Madre mountain range.
At the end of the rock formation is a cave where you can do trekking, exactly at the foot of Minalunga Hill. There's a bamboo bridge you can cross to go to the cave. This is just one part of the 2,018-hectare park. In fact, going to the park alone is an adventure in itself since you need to experience forty-five minutes of a bumpy, dusty (or muddy during the wet season) ride.
Once there, you can ride a balsa (bamboo raft) to get rid of the dust. Or, do cliff-diving if you have the heart to do so. Trek to Minalungao Cross, too. But be reminded that you need to do a thousand steps to reach the summit. Try the zipline above the river as well.
Man-made
The province also has man-made wonders frequented because of their breathtaking views of the surrounding.
Diamond Park in San Jose City
Situated at the Cagayan Valley's gateway, the park is frequented by the locals and tourists since it is a perfect site for sightseeing. Picnics can be also done on the ground. To fully appreciate the park, though, you need to climb a hundred steps to its hilltop. While there, you'll be amazed at its lamp-lid pagodas while marveling at the panoramic view of northern Nueva Ecija.
Pantabangan Dam in Pantabangan
Pantabangan Dam is an engineering wonder. Constructed in 1974, the dam doesn't only provide for irrigation, but it also serves as a flood barrier. Nowadays, it is one of the most visited spots in Nueva Ecija mainly because of the scenic view it offers.
Religious
Aside from its churches, the province also boasts of spots to complete a spiritual journey.
Holy Week Rituals in Carrangalan
As one of the oldest towns in the province, its Holy Week rituals are not your typical penitensya (flagellance). Theirs is woven folklore where a hide and seek activity commences between the flagellantes and the hudyo (jew). This will be followed by a choreographed Christian penitential rites, the participants of which smear their faces with charcoal and beat them with bamboos. It ends with a children's parade.
Mt. Olivete in Bongabon
Built by the Adarnista Spiritual Community atop a mountain, a hundred steps must be also taken to reach the church. Pilgrims frequent the place to bathe and drink the water from the spring, believing it has healing properties.
Others
There are many other interesting places to see in the province.
Gross Ostrich Farm in San Leonardo
One of the very few ostrich farms in the country, this farm breeds imported ostriches for both tourism and human consumption purposes. At the farm, various ostrich products are sold from leather wallets and colorful feathers to decorative eggs.
Agricultural Museum in Muñoz
A one-of-its-kind museum in the Philippines, it dedicates its collection to agriculture. The museum houses various archives namely rice and vegetable planting implements, hunting and fishing implements, and household ingredients and utensils. The museum, as well as another museum called Living Fish Museum, is located within Central Luzon State University (CLSU).
When in Nueva Ecija, don't forget to drop by on any of these places especially the national park.