Music Acts To See This August
Filipinos are known for their warmth and hospitality. International bands and artists return to the country because of these traits. It doesn't help that the youth of today are full of energy, excitement, and passion. The minority appreciates the value culture and the arts, which makes the Philippine concert scene flourish. The wild performances and live music in Manila are must-see's when visiting the city.
We've rounded both local and international acts to watch out for this 2017.
Scout Music Fest
Scout Magazine celebrates its third anniversary with a dash of nostalgia. Scout Music Fest brings the summer themed, upbeat and fresh tunes from local artists. Watch out for performances from BP Valenzuela, Autotelic, Jensen & the Flips, IV of Spades, Tandems '91, Tom's Story, She's Only Sixteen, Rjay Ty, Oh, Flamingo!, Jess Connelly x Lustbass, and Farewell Fair Weather.
The fun starts at 5 pm onwards at Samsung Hall, SM Aura. #ScoutMusicFest
Liam Gallagher of Oasis

Oasis, a reminiscent of '90s rock, had their last stint together as a band in Singapore on 2009. The group never got the chance to grace their fans in Manila a visit. Frontman Liam Gallagher finally arrives this year to rock the Mall of Asia (MoA) Arena. Catch him on August 14, 2017 at 8 pm as he headlines the rock scene of the 'older' millennials.
In the Mix

Its second year is still as big as the first, but this year's act has diversity. In The Mix has 6 acts – 3 bands and three solo artist – that will take the stage on August 17 at the MoA Arena.
Australian band 5 Seconds of Summer, also included last year, will be back to perform their hit tracks from the latest album. The group is composed of talented lads – Luke Hemmings (lead vocals/guitar), Michael Clifford (guitar/vocals), Calum Hood (bass/vocals), and Ashton Irwin (drums/vocals) – and gathered a solid fan base in the country.
Other bands are DNCE and Two Door Cinema Club. DNCE was formed in the summer of 2015 and is widely known for their catchy, radio pop tunes and unusual lyrical soliloquy. Their first released track, "Cake By The Ocean", won "Choice Music for Party Song" at the Teen Choice Awards. The band was also awarded "Best PUSH Artist" and "Best New Artist" at during the 2016 MTV European Music Awards and "Best New Artist" at last year's MTV Video Music Awards. Lead Joe Jonas, bassist & keyboardist Cole Whittle, guitarist JinJoo, and drummer Jack Lawless all contributed to DNCE's success.
Diverting to a different genre, Two Door Cinema Club is an Irish alt-indie band included in the lineup. The band released its third album "Gameshow" which proves they have gone far since it started in 2008. Three friends – singer Alex Trimble, guitarist Sam Halliday and bassist Kevin Baird – inspired by Foals and The Maccabees won "Album of the Year" from Choice Music Prize and Triple J Hottest 100 for "Undercover Martyn" in 2010, Triple J Hottest 100 in 2012 and 2013
The remaining acts are solo artists influential in their right. Daya is an 18-year old American singer and songwriter. She released her self-titled EP Mix September 2015 and bagged her first Grammy for Best Dance Recording for collaborating with The Chainsmokers. Nineteen-year-old Zara Larsson won Talang (Swedish version of Got Talent) in 2008. Her singles include "Lush Life" which reached the Top 10 across Europe, and "Never Forget You" (featuring MNEK) hit the Top Ten in Great Britain and went GOLD in the United States. Millenials completes the lineup. The London-raised singer, songwriter, and model started her musical career began at age 14. The Albanian descent recorded covers for YouTube and Soundcloud, continuing those early rap and R&B influences by tackling tracks from artists like Chance The Rapper or Mila J, all done in her, style: stripped back production and burning, buttery vocals.
Lany Live at Ayala Malls
With their following success during Wanderland, LANY is back in Manila set to play five consecutive shows as part of their Southeast Asia tour. The band will be performing at four Ayala Malls stationed in Metro Manila – Glorietta Mall (Aug 4, 7 pm), Greenbelt Mall (Aug 5, 3 pm), Alabang Town Center (Aug 5, 7 pm) Market! Market! (Aug 6, 3 pm) and Trinoma (Aug 6, 7 pm)
The band, actually a trio, includes Paul Jason Klein (lead vocals, keyboard, guitar), Les Priest (keyboards, guitar, backup vocals) and Jake Goss (drums). It was formed in Nashville and adopted the acronym for LA and New York on 2014 as their name. Watch them perform their 80s FM pop-inspired tracks such as "ILYSB," "Pink Skies," "Good Girls" and "Walk Away."
Arnel Pineda at Okada
International acts are tough to follow, but there are live performances that shine and stand out.
Arnel Pineda, known as the lead singer of the American rock band Journey since 2007, celebrates his 50th birthday at the Grand Ballroom of Okada Manila. The show followed by an intimate dinner includes a setlist that features the compositions of his humble beginnings until his moment of being in the limelight as the frontman of Journey.
The concert is for the benefit of Arnel Pineda Foundation Inc., an organization that helps underprivileged children to have access to quality education, health services, and medical attention.
Phoenix Live in Manila 2017 (August 15 at Smart Araneta Coliseum)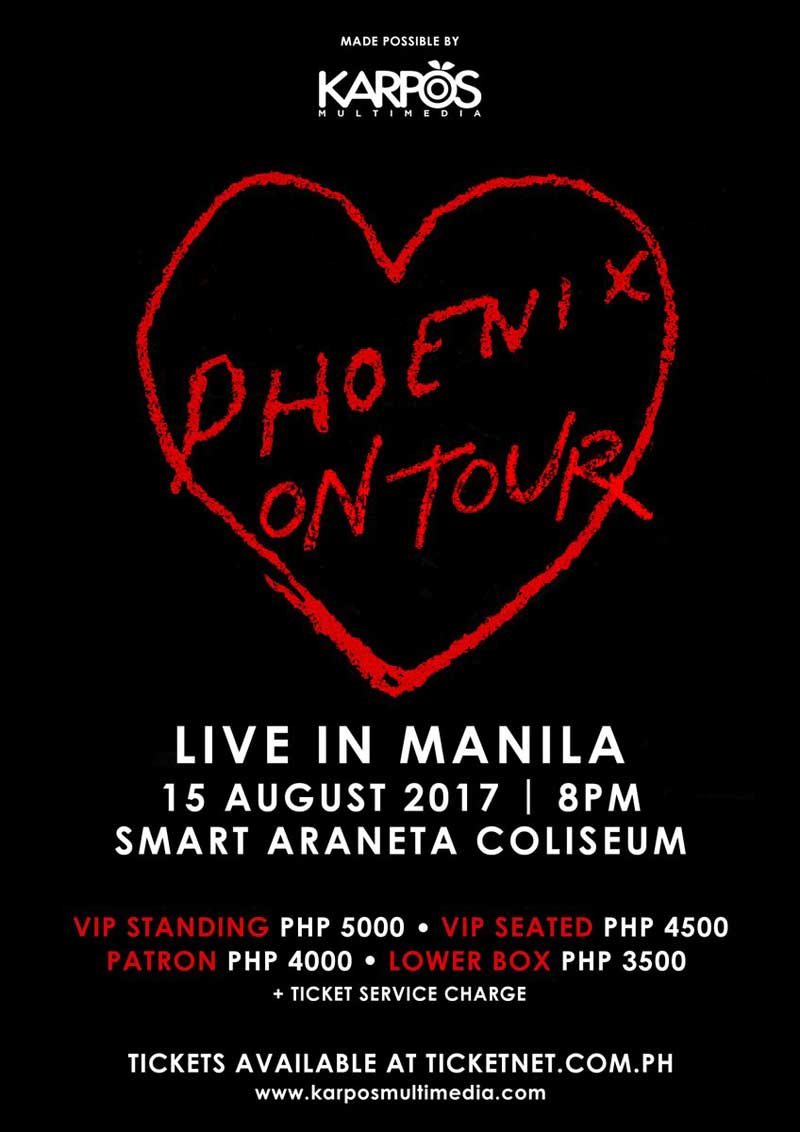 Also part of Wanderland, Phoenix comes back to perform at Smart Araneta Coliseum on August 15. The French rock band composed of vocalist Thomas Mars, bassist Deck D'Arcy, guitarist Christian Mazzalai, and guitarist Laurent Brancowitz are known for its synthpop, hypnotic beats, and one-of-a-kind light show. It recently released "J-Boy," from their upcoming album, "Ti Amo,"
These are the music acts waiting to happen next month. Mark the date, save up, invite your friends and have a one-a-kind experience with live music and performances. Watch out. Your favorite track may in their setlist. Grab tickets before they run out!