Christmas Locations near Metro Manila
"The best of all gifts around any Christmas tree: The presence of a happy family all wrapped up in each other." –Burton Hillis
Christmas in the Philippines is known to be one of the longest Christmas seasons. As early as September, you would already see some households decorating their houses with various Christmas singing lights and large Christmas lanterns. This merriment lasts all the way till Epiphany where you would traditionally see most Filipinos taking down the decorations (though arguably for some, Christmas would last until Valentines' Day). So, whether you are spending your Christmas season with your family members here at home or are in the country for a brief visit, here are Christmas locations in proximity to Metro Manila you ought to check out to get you pumped up for the yuletide season.
1.) Giant Lantern Festival, San Fernando Pampanga
If the image of singing lights give you that warm feeling or a Christmas cheer, then Pampanga's Giant Lantern Festival which is also known as "Ligligan Parul" is perfect for you. It is an event routinely held in San Fernando, Pampanga which showcases various huge lanterns that would all have some distinct aspect about them. Some lanterns would showcase eye-popping colors with spectacular lights and more often than not it is an interplay of diverse kaleidoscopic patterns and colors accompanied with lovely music. This event is usually held every second week of December where several Barangays would enter their lanterns in vying for the grand prize.
2.) Theme Parks (Enchanted Kingdom, Sky Ranch, Star City)
If you are seeking a place your tiny tots would undeniably enjoy, a quick stop to any of Metro Manila's theme parks would take care of that for you. If you have kids in tow, be sure to add enjoyment to their holiday season by bringing them to the nearest theme park in your area or if you are up for a drive, go to a theme park you have not been to before. Of course, you are not entirely left out as there are things and attractions adults can enjoy as well. If checking out theme parks is more of your speed, check out the Sky Ranch in Tagaytay, the Enchanted Kingdom or Star City in Pasay City.
3.) Maytinis Festival
Every year as December looms over the town of Kawit, hordes of visitors and residents from Kawit would flock to Kawit Cavite to witness firsthand, the Maytinis Festival. This has been and old Caviteno tradition that has held on for quite a long time. It is annually held on the 24th of December, and it shows a dramatic retelling of Virgin Mary and St. Joseph's (regularly portrayed by the locals) endeavor in searching for a place to stay in Bethlehem. Apart from the nativity recapping, the show features biblical scenes from the Old and New Testaments as well.
4.) Policarpio Street, Mandaluyong City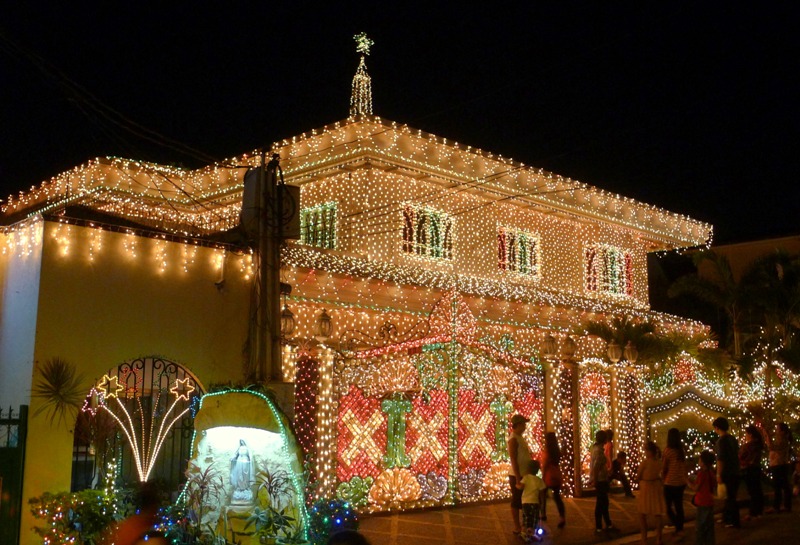 You do not have to travel far just to get that Christmas ambiance and feel. Policarpio Street located in Mandaluyong would be more than enough to show you what a grand Christmas is truly about. The street comes alive every Christmas season and is usually littered with locals and tourists alike. If you are picturing the perfect Christmas date, this is it. Take a stroll along the streets and marvel at the houses meticulously and intricately decorated with creative Christmas decorations and lights.
5.) Christmas Show in Greenhills Shopping Center
Turn your humdrum and tedious Christmas shopping chore into something a bit of adventure by stopping by to see the Christmas Show whenever you are in Greenhills Shopping Center. One of the many things Filipinos enjoy during Christmas time is the annual display of automated figures with dynamic movements complemented with various lights and Christmas music. To delight the public, Greenhills has done exactly just that with the shows starting mid to late November and lasting to January.
Image Source, Image Source, Image Source, Image Source, Image Source